Rolex Complete Overhaul Special $449*
FREE FedEx® shipping of your watch to WatchRepair.net
Call 1-888-876-9282
Our CW21 Certified Watchmaker will methodically
disassemble your entire watch piece by piece…
Then all the parts are ultrasonically cleaned, degreased and then individually inspected for any signs of excessive wear.
Your case back seal, crystal seal and crown gaskets are replaced with new seals and gasket.
Our CW21 Certified watchmaker will then carefully refinish the watch case, the bracelet and the bezel to remove scuff marks and scratches so that your watch will look almost as good as it looked when it was brand new.
All moving parts are then lubricated with only the highest grade lubricants and oils during the reassembly process.
Once your watch has been completely reassembled, it is thoroughly tested to our exacting standards over a period of 72 hours to assure accuracy, water resistance, and proper operation of all functionality. Any required adjustments will be made accordingly.
Call 1-888-876-9282
ROLEX REPAIR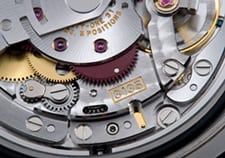 All watch repair service backed by our full 1 year warranty.
Testimonials

"Jeff, The Ladies Rolex Oyster Perpetual watch looks fabulous! A 40 year old Rolex watch now looks like it did the day it was made! Thanks,"

Germantown, TN
*The above Rolex Complete Overhaul Special $449* Overhaul Special excludes chronographs and more complicated movements. Some repairs may require replacement of unusual parts. As such, this would not be covered in the "Rolex Complete Overhaul Special $449* Complete Overhaul Service." Unusual repairs may take longer due to special ordering of these parts. A revised estimate will be provided for your approval. - WatchRepair.net