My son, Jeffrey gifted me a Tag Heuer Monaco wristwatch fifteen years ago to commemorate my retirement—the merciful end of a less than joyous 32-year stint with the County of Sarasota and the State of Florida. It was the perfect present to give and receive.
He and I share a passion for automobiles, automobile racing, and fine watches. Over the years—I'm 75, he's 50—we have exchanged two Omega Sea Masters and one ultra-thin Patek Phillippe, a gift from my sister-in-law which I immediately passed on to Jeffrey—the need of a 75-year-old retired, middle-class Lebanese grandfather for such a fine piece of wrist jewelry is questionable.
After years of perfect timekeeping, and many compliments, my Monaco began to run exceedingly fast. After contacting Jeff Herman at WatchRepair.net for an overhaul, I began to research the history of the pride and joy I wore on my wrist.
I knew the basics, the McQueen and the Le Mans movie connection being the most obvious, but otherwise very little.
For just a tick over 50 years the Tag Heuer Monaco remains one of the coolest and most desired watches to ever grace a man's wrist.
Thanks to Hollywood bad-boy Steve McQueen the much sought-after timepiece has achieved iconic status.
Visible on his racing suit in the 1971 movie Le Mans is a patch logo: Chronograph Huer, and as he zips up his white coveralls, on his right wrist (McQueen was a lefty), he sports the bold Heuer Monaco. The image has been used in countless advertising campaigns to this day.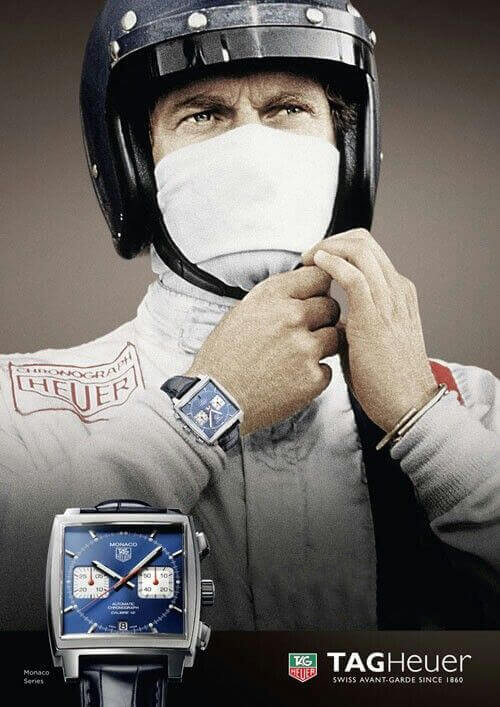 A less well-known photo of him wearing the watch is a snapshot capturing a shirtless McQueen, riding a small motorcycle along the straight of the Le Mans pits carrying two female passengers.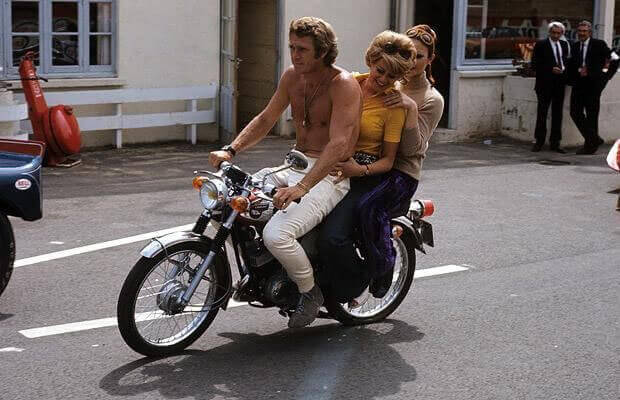 McQueen's everyday go-to watch was the Rolex Submariner. As the story goes, McQueen, a motorcycle/sports car racer who placed Second overall in the 1970 Sebring Grand Prix of Endurance was befriended on the Le Mans set by Jo "Seppi" Siffert a talented Swiss racing driver.
Siffert was the real deal. A team member of Porsche noted for his successes in endurance racing, having won the 24 Hours of Daytona and the 12 Hours of Sebring in 1968, and also the daunting Targa Florio in 1970. He claimed victories in many other European sports car events and participated in the Can-Am series. In Formula 1, the pinnacle of motor racing, he won two events and stood on the podium 6 times.
It was Siffert who steered McQueen to the Heuer line. Although Siffert wore and pushed the equally iconic Heuer Autavia, McQueen chose the Monaco which had been released simultaneously in Geneva and New York in 1969.
Siffert's suggestion of a Heuer to his new friend was not happenstance. Through an arrangement with Jack Heuer, Siffert had been selling Heuer watches to racers through a mutually beneficial arrangement.
As per their contract, the racer was paid 25,000 Swiss Franks annually ($27,000) for using the Heuer red company logo on his racing suit and his car, and to wear a Heuer watch, preferably the Autavia model while racing. The contractural amount of $27,000 would be approximately $186,000 in 2020. A princely sum for a heretofore poor Swiss racer trying to meet ends meet by hawking watches.
The Swiss factory provided Heuers to Siffert at wholesale to sell for whatever profit he could derive.
In return, the watch manufacturer was given the invaluable publicity and status engendered by top tier drivers sporting their watches at exclusive venues around the world. It seemed that nearly the entire Grand Prix racing grid wore a Heuer.
According to the auctioneer, Peter Wilson the arrangement was lauded in Jack Heuer's book, The Times of my Life: "Although I didn't realise it at the time, this relatively simple sponsoring contract with Siffert was probably one of the best marketing moves I ever made, because it opened the door for us to the whole world of Formula One."
McQueen chose the Monaco from a group of available timepieces because of its unique look, characterized by a large, square face dial (as blue as McQueen's eyes), encased in stainless steel.
Fifty years on it remains a bold, formidable-looking, timepiece.
This was the first chronograph of its type. Advertisements assured, "Until now, you could not buy an automatic chronograph at any price." Its stopwatch feature was accurate to a fifth of a second, a boon for yachtsmen, pilots, racing and rally drivers, or any adventurer in need of a fool-proof tool to navigate.
If one's pursuits did not require white-knuckle adventure, the ads offered: "When you run up the cocktail flag, this Tag shows another side of its personality. Designed by a famous Swiss stylist (Jack Heuer) it is equally at home behind a glass of champagne as it is behind the wheel of a yacht."
McQueen epitomized cool to the point of being icy. Known for his manly-man roles in The Great Escape and Bullet, and his suave sophistication in The Thomas Crowne Affair, he was aped by a generation of hero-worshipping young men. Landing him to advertise the Monaco wristwatch was a stroke of marketing genius.
The rest of the story: A major box office draw during the 60s and 70s, with one Emmy Nomination for The Sand Pebbles, McQueen died at age 50. He suffered from pleural mesothelioma, from contact with asbestos he was exposed to during his stint in the Marine Corps.
He died on November 7, 1980.
Jo Siffert, whose first Formula 1 entry was the 1962 Monaco Grand Prix, was killed at the Brands Hatch racing circuit when a broken suspension flipped his BRM, trapping him inside the burning wreckage. Although he initially suffered only a broken leg, defective fire extinguishers at the scene failed to operate and he died of smoke inhalation on October 24, 1971. He was 35 years old. This was the same circuit Siffert won in a privately entered Rob Walker, Lotus 49B on July 20, 1968. The tragedy occurred just 3 months after the release of LeMans.
Siffert was given a hero's burial in Freiburg, Switzerland. The funeral cortege was led by a Gulf Weyer Porsche 917—the model McQueen had driven in LeMans—and was attended by 50,000 mourners.
The Autavia watch he was associated with is known as the "Jo Siffert."
As for my Tag Heuer Monaco, it will be passed on to my grandson, and his son after that.
by Jeff LaHurd